Free Conan Exiles Expansion Update to be Released for both Xbox One and PC
This PC open-world survival game set in the brutal lands of Conan the Barbarian is scheduled to be released on Xbox One on August 16th when a free expansion update will launch on both PC and Xbox One on the same date.
Originally released on PC this open-world survival game is set in Hyboria, the mythical world of Robert E. Howards Conan the Barbarian. In this harsh and unforgiving land only the strongest can survive while the weak are swiftly cut down. Soon gamers on Xbox One will themselves get to experience how it feels being thrown into a naked land and be forced to survive under the open sky.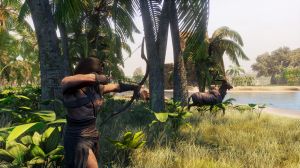 By releasing the free expansion update on PC and Xbox One simultaneously with the Xbox One Game Preview launch players on both platforms will be provided with a new and fresh experience that expands the world of Conan Exiles by roughly 50% and comes complete with entirely new environments, monsters, buildings, game features, and more. As the game is still in Early Access, everyone who has already bought or decides to buy the game while it's still in development will get access to this massive update at no extra charge.
For more information and to follow Conan Exiles go to www.conanexiles.com/expansion